Frederick the Literate, to be exact.
I wish this post was to announce that I had finished him, but I'm not quite there yet. He does, however, finally have a face!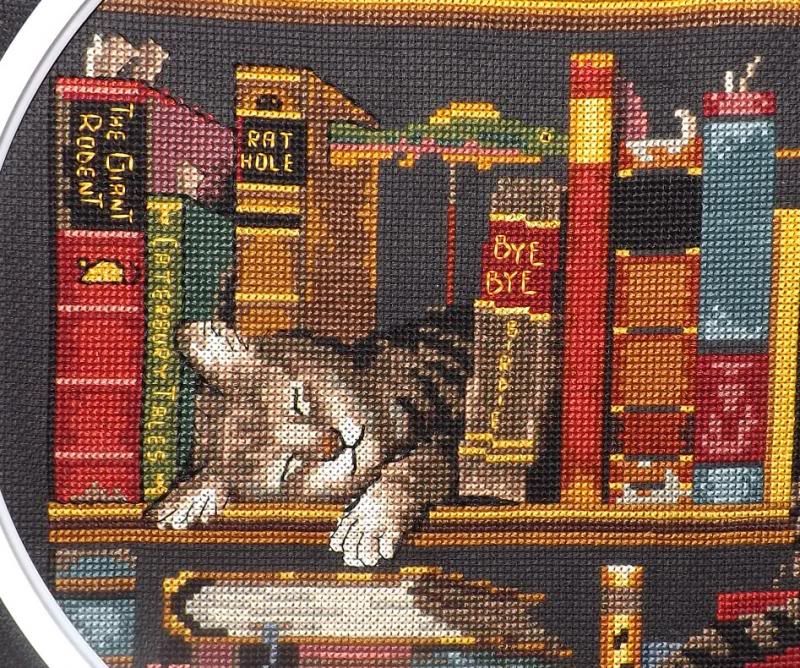 Isn't he handsome? He's still lacking his whiskers, because they are couched and will therefore be the last thing I stitch on this project. I don't want to catch them accidentally with my needle, or pull them out of place with a hoop or q-snap.
I'm working on finishing up Fred in quarters - I was going to do all the metallic bits, then all the backstitching, but I decided to divide it up the way the pattern does, and just do each fourth's work all at once. I'm almost done with this quarter - it ends with the tall, skinny red book.
I really like the book names on this - The Giant Rodent, 'Caterbury' Tales, Rat Hole, Bye Bye Birdie, and the next is Corporate Fat Cats.
There are lots of books to go! Here's how Fred looks with all his main stitching done and no backstick yet, with only a tiny bit of metallic:
And how he'll look when finished: