This post is really late - I came home from work, crashed, and took a three hour nap! I'll never be able to get to sleep tonight!!! Also it's really dark so the flash burnt my pics out a little bit.
One of the first gifts someone in my family gave me when I started stitching was a Gold Collection kit called 'Jewels of the Orient'. I didn't start it immediately, shockingly enough, for two reasons. First, I was pretty sure it was going to be hmm, high impact? and I loved it and wanted more experience so I wouldn't screw it up.
And secondly, they bought it from someone on eBay, and it had been opened - and the pattern was gone! Kind of hard to stitch something that way! I finally emailed Dimensions with a question as to whether I could buy a replacement pattern, explaining why, and they sent me it for free! I love Dimensions : D
Anyway, I still haven't started the kit, but my family decided that since I loved that one so much, well - there were more! And the next year for Christmas I got two more Gold Collection kits. These are the lovely three:
Jewels of the Orient, The Mighty Samurai, and Elegance of the Orient. I did start the Samurai - can't resist a handsome fellow, lol! - but he's only got around one hand done and a bit of pink belt. This is a really bad picture taken a while back: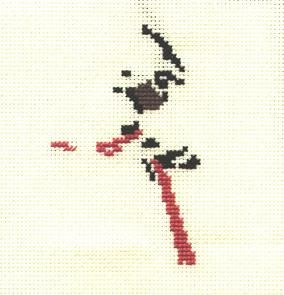 The thing was, that my family calls all these kits 'those Jewel kits', and ask when they'll be stitched. So I refer to any Oriental-style project or kit as a Jewel now. Hence the post title! The reason my family wonders when these will be done is that my bedroom is done in Oriental art, and I wanted these for that reason. If I ever get my pictures up - they require some work support-wise because they're heavy - I'll take some photos and show off : D
I eventually bought these miniature kits to go with the big ones, after seeing them on other blogs: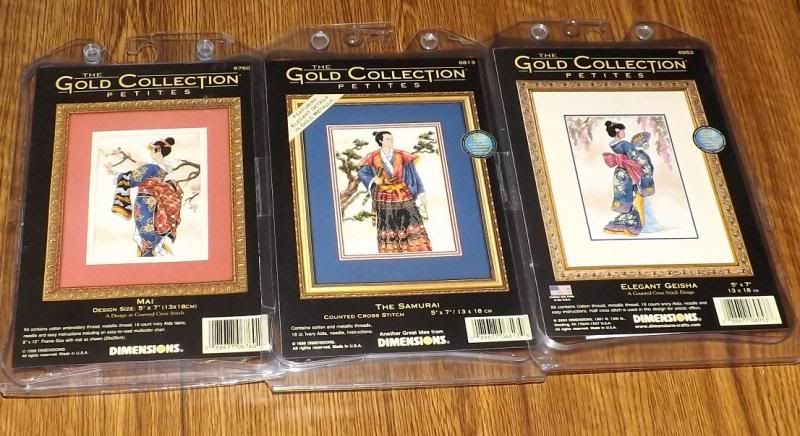 Mai, Samurai, and Elegant Geisha.
I also have these two - the first one was a gift, and the second I bought a few days ago at JoAnn's:
Three Geishas, and East Meets West. That last one will be
huge
- 16x20!
And then there is HAED - my eternal weakness! One of the first two patterns I ever bought was Stephanie Pui-Mun Law's 'Poet'
Then Marta Dahlig's 'His Only Friend' came later: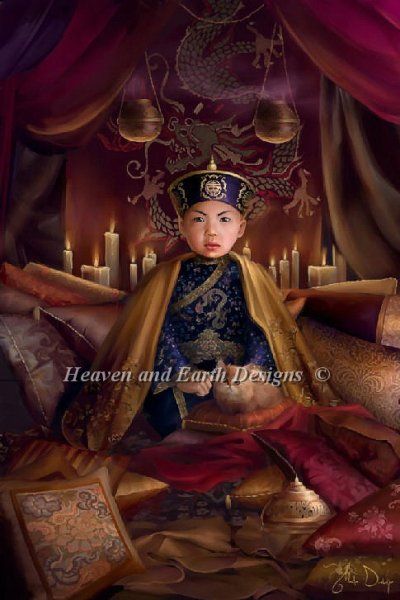 And recently I got Asian Fantasy 3 by Gracjana Zielinska:
All three of those are fully kitted and ready to start.
And lastly, there's these pretty Pinn Stitch patterns:
Chinese Blessing Fishes and Fish of Fortune. These are not kitted up yet.
So I guess what this post should tell you is that I am insane, that my family is fond of me, and that I have enough stash to last me several hundred years!
PS - here's a wee freebie pattern I did a few years ago - Kimiko from the International Bears that Vermillion Stitchery made. You can buy the bears in book format now, with a bear of the opposite gender to match each one.