More specifically, today M is for the things I've stitched for my Mum! and a bit for my Da :D Can't leave him out, can I?
The Lord's Prayer, which was a Christmas prezzie for my Mum and Da together, and an Anniversary picture for them. The Anniversary one had a lot of color changes to match their hair color and the color of the suit in my Da's graduation picture, and my Mum's favorite color for her dress. It was the second or third thing I finished when I started stitching, and the Lord's Prayer was the first big project I finished.
Mother's Bliss - all the pictures were professionally framed except this one. I did this one myself, after I found a cheap print in a pretty frame with mats that went very well with the picture. You can see a yellow spot on it where one of my co-workers handled it with greasy fingers and I couldn't get the stain out but my Mum declares she doesn't mind! Also the framed got chipped when they moved, so eventually I think it will have to be reframed. Maybe my framer can cover that spot!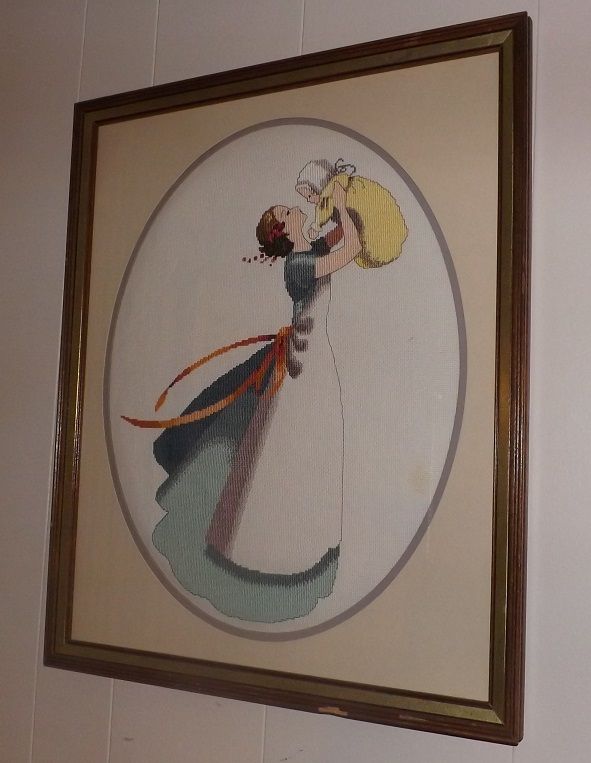 Mom and Dad by Bent Creek. Don't you love my Mum's retro wallpaper? It was already in the house, from the 70's but it looks brand new!
And these are My Mother, My Friend (I don't remember if this is Bent Creek or Lizzie*Kate) and the SchoolHouse Sampler from a Just Cross Stitch issue. My Mum is a retired teacher.
Lastly, this is Going to Market, for her African-themed room. She and my Da went on a mission trip to Africa a few years ago, and my Mum fell completely in love with the people there.
There are a few more things she has that are not framed yet, and I didn't take a picture of the other two my Da has. His will have to wait their turn, lol!
Here are the two WIP's that are for my Mum:
Gloria and Pat's Voice of Spring
and the Victorian house that we're uncertain what to do with at the moment, since she has decided to change out her Victorian room for something else.