Another lovely one from Heaven and Earth Designs. This is Yarr, by Marta Dahlig.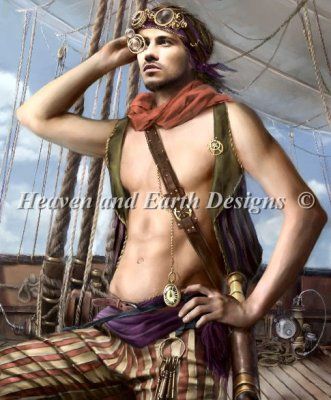 In June or July I'm supposed to go on a little vacation, and I plan to take Yarr with me. It's not a busy vacation, it's a relax-in-the-middle-of-nowhere vacation, and I think I can have a pretty good start on him.
Especially if I leave my other projects at home!
Since I want to start him so soon, he is also kitted and ready to go. I thought I would show you his components all spread out:
That's a 30x36 piece of 22ct hardanger, all his floss, and his pattern. I only spread the pages a little, there are 36 total, although some are half pages and the bottom row of pages is only about 20 rows total. He's actually medium-sized for a HAED, with not as much floss as some. (Amanda and Axel, for instance, has less colors but takes 27! skeins of black).
One day to go! Whatever shall Z be...?